Wiki Targeted (Entertainment)
Play Sound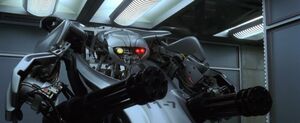 The Cyber Research Systems T-1-5 and T-1-7 Warrior Robots[1] are variations of T-1 Battlefield Robot developed by the Cyber Research Systems and the project involved Daniel Avila.[2] The T-1-5 and T-1-7 Warrior Robots are early model Terminator, featuring bulky physical appearance[3] and armed with 50-caliber depleted uranium chainguns capable of firing nearly 3000 rounds per minute. Like the old United States Navy's Phalanx systems mounted on aircraft carriers, the guns are directed by a sophisticated onboard suite of radar, infrared, and optical sensors.[1]
In 2029 during the Future War in Kyla's World timeline, the T-1-5 and T-1-7 were deployed by Skynet to guard the entrance of Skynet Core in Colorado Spring, Colorado.
Skynet seemed to used T-1-5 and T-1-7 as practicing target to test newly created T-X Terminator as there was a junkyard filled with T-1-5 and T-1-7 units, along with a lot of T-600, T-800, and T-1000. Terminator 3: Rise of the Machines novel
In the novel Terminator Hunt, the T-1-5 and T-1-7 are referred as T-5 and T-7, possibly due to mistake or editorial error.
Community content is available under
CC-BY-SA
unless otherwise noted.