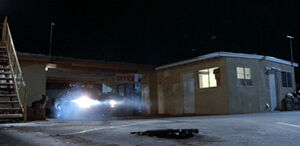 The Tiki Motel was a two-story motel which boasted free color television, adult movies, phones, and truck parking. They also offered rooms with kitchens.
Kyle Reese and Sarah Connor stayed in room 9 of the Tiki Motel on May 13, 1984, and it was there that John Connor, the future leader of the Resistance, was conceived.
When the T-800 leaves the Tiki Motel after Sarah & Kyle race off, there is: Spartan Burgers across the road. Go to maps.google.com and type in: 7222 Santa Fe Ave, Huntington Park, CA 90255, it can be found it on the corner with Walnut St. If you click on the picture, you will see the identical place where Terminator can be seen on a motorbike leaving the grounds of the Tiki Motel. Obviously, things have changed but the original Spartan Burgers restaurant is still there.
The phone number for the motel was 408-555-1439.
The original Tiki Motel went defunct and closed in 2013, but was later revived as Tiki Apartments where it still runs today.[2]
Community content is available under
CC-BY-SA
unless otherwise noted.