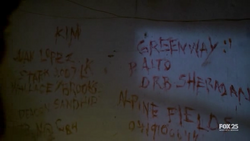 The bloody wall is a wall full of words written in blood by the Resistance fighter Wells. It is located in the basement of the Connors' residence and was discovered by Sarah Connor after she found odd blood trails near the house. "Automatic for the People"
The inscription
The markings are organized in two columns, presumably listing places or people somehow important to the future war, the Resistance or Skynet. The inclusion of Myron Stark in the first column implies that it is a list of Skynet agents to be neutralized, while the contents of the second column appear to be Skynet targets to be protected.
First column
Written
Reference to
Episode of occurrence
KIM
JUAN LOPEZ
STARK 2007 LK
(2007 is blurry)
Myron Stark - A Terminator who probably had been sent to kill the Governor of California on New Year's Eve 2010, but mistakenly ended up in 1920. It is unknown if 2007 LK is to be viewed separately from Stark's name.
"Self Made Man"
WALLACE/BROOKS
DEACON SANDHIP
Tb3N@C84
An unusual type of fullerene molecule.[1] There has been speculation that this particular molecule might refer to liquid metal terminators.[2]
EILEEN: Name not exactly known - possibly a reference to Abraham, who was living under this name.
WILSHIRE: A suburb of Los Angeles, also the name of a street in the same city.
HD: unknown
Notes
The Bloody Wall makes a very brief appearance towards the end of the 2010 Live-action film, Scooby-Doo! Curse of the Lake Monster.
Appearances
References
↑ Other Fullerenes in popular culture at Wikipedia