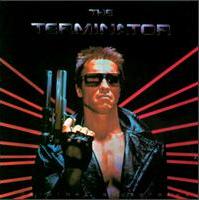 The Terminator is a soundtrack album by Brad Fiedel, featuring the score to the film, The Terminator. It was released in 1984 through Enigma Records as a vinyl record and reissued in 1991 through DCC Compact Classics as a CD.
Track Listing
Edit
The Terminator Theme (4:30)
Terminator Arrival (3:00)
Tunnel Chase (2:50)
Love Scene (1:15)
Future Remembered (2:40)
Factory Chase (3:50)
You Can't Do That - Tahnee Cain & Tryanglz (3:25)
Burnin' In The Third Degree - Tahnee Cain & Tryanglz (3:38)
Pictures Of You - Jay Ferguson & 16mm (3:58)
Photoplay - Tahnee Cain & Tryanglz (3:30)
Intimacy - Linn Van Hek (3:40)
Definite Edition
Edit
In 1994, the soundtrack was re-issued by Edel Music. Unlike the previous release, the "Definite" edition contained the majority of the film's cues and none of the songs that are contained in the previous release.
Theme from "The Terminator" (4:16)
"The Terminator" Main Title * (2:17)
The Terminator's Arrival ** (4:57)
Reese Chased * (3:50)
Sarah on Her Motorbike * (0:38)
Gun Shop/Reese In Alley * (1:30)
Sarah in the Bar * (1:52)
Tech Noir/Alley Chase * (7:38)
Garage Chase * (6:52)
Arm & Eye Surgery * (3:19)
Police Station/Escape From The Police Station * (4:49)
Future Flashback/Terminator Infiltration ** (4:18)
Conversation by the Window/Love Scene ** (3:45)
Tunnel Chase (3:38)
Death By Fire/Terminator Gets Up (3:13)
Factory Chase ** (3:57)
Reese's Death/Terminator Sits Up/You're Terminated! * (3:28)
Sarah's Destiny/The Coming Storm * (3:04)
"Theme From "The Terminator" (August 29th, 1997, JUDGEMENT DAY ReMix)" * (4:44)
*previously unreleased
**contains previously unreleased material
Curiously, this release does not contain the entire score. Track 2 eliminates a sizeable portion of the music that can be heard in the film's introduction, while the cue "Gun Shop" has not actually been included, nor has the true version of "The Coming Storm", which in the film is a reprise of the Love Theme.
Community content is available under
CC-BY-SA
unless otherwise noted.