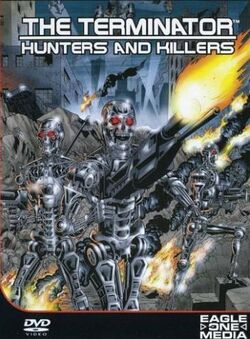 The Terminator: Hunters and Killers is a 2005 "digital comic" DVD made by Eagle One Media. Each page of a comic book is displayed on the television screen while accompanying voiceovers, music, and sound effects are played.
The DVD includes the digital versions of the three Dark Horse Comics stories that previously had been collected in the anthologies "Terminator: Rewired", and "The Terminator Omnibus Volume 1 & Volume 2". Two of them - "Hunters and Killers" and "The Other Sarah Connor" (known as "The Terminator: One Shot" when published as regular comics) are told in whole - while the third, "Showdown in Death Valley", is the first half of "The Terminator: Death Valley".
Also included on the DVD is a comic cover gallery.
External Links
Edit
Community content is available under
CC-BY-SA
unless otherwise noted.