edit
Welcome
Terminator Wiki is a collaborative encyclopedia for everything related to the Terminator franchise of movies, TV series, novels, comics, video games, etc. The wiki format allows anyone to create or edit any article, so we can all work together to create a comprehensive database. Check out the help pages to get started!

Featured Article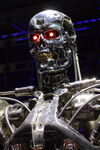 The Series 800 Terminator is a type of Terminator mass produced by Skynet. Individual Terminators within the series are often referred to as T-800s.
The T-800 was Skynet's first cybernetic organism, with living tissue over a hyperalloy endoskeleton. This made it Skynet's first successful Infiltrator unit, capable of infiltrating the Resistance.
The Series 800 Terminator was the first in a line of Series 8xx Terminators in various timelines, including the Series 850 and the Series 888 Terminators.

more...

Latest News
Terminator: Dark Fate, the newest installment of the Terminator films, is coming to theaters November 2019.

Disclaimer
Legal
This fansite is not affiliated with Megan Ellison or Annapurna Pictures. All trademarks and copyrights belong to their respective owners, and are used here under the terms of Fair Use as defined in United States Copyright Doctrine. Terminator is a registered trademark of StudioCanal Image S.A.

Advertising
Advertising on Wikia is sold by Wikia Inc., and is not an endorsement of the products by Megan Ellison, Annapurna Pictures, the Terminator Wiki, or its volunteers. To report an inappropriate advertisement, please contact Wikia Inc. directly using the contact form.
---
Are you lost? Then view the Category Tree to see how all pages are organized.
---
Terminator Wiki in other languages: English (en) • español (es) • 日本語 (ja) • deutsch (de)
---
Community content is available under
CC-BY-SA
unless otherwise noted.