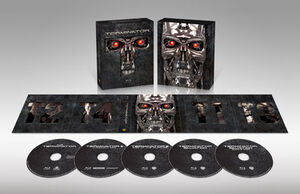 Terminator is an American science fiction franchise that comprises films, a television show, novels, comic books, video games, and tie‑in merchandise.
Primarily created by James Cameron, the franchise mainly centers around the battles between Skynet's artificially intelligent machine network and John Connor's Resistance forces and the rest of the human race. The titular "Terminator" refers to the various infiltration-combat autonomous robots, notably the Model 101 T-800 unit, portrayed by Arnold Schwarzenegger, manufactured by Skynet in its war against humanity. The original film was written by James Cameron and Gale Anne Hurd, with additional uncredited input from William Wisher, and directed by the former, who returned with the same duties for the first sequel, Terminator 2: Judgment Day (1991). The films have grossed over $1.4 billion at the box-office worldwide.
The first film was conceived from a nightmare Cameron had, with acknowledged inspiration from the works of Harlan Ellison, and released in 1984 to wide commercial and critical success. However, legal troubles and creative differences have led to the rights being passed on to different production companies for every subsequent film. In 1996, T2 3-D: Battle Across Time, a theme park attraction, opened in Universal Studios Florida, and has since expanded to other Universal Parks & Resorts locations; it is still operating today. In 2008, a television series titled Terminator: The Sarah Connor Chronicles premiered as an alternate continuation to the first two films, as opposed to following up from the last two films, but was canceled after two seasons. Additionally, numerous novels, comic books, and video games expanding upon the Terminator universe have been produced over the years.
Films
TV series
Streaming series
Novels
Comics
Video games
Miscellaneous
External links
References