Wiki Targeted (Entertainment)
Play Sound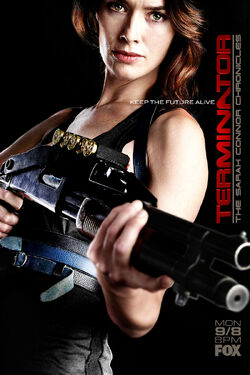 The first season ended at the 9th episode because of the Writer's strike. Four more episodes were ordered, but not completed. On April 20, 2008 Fox confirmed an order for a second season of 13 episodes, and on September 8, 2008 the season two premiere aired.
On October 9, 2008 it was posted on the Fox Terminator Blog that two additional scripts had been order, with the possibility of more. On October 20, 2008, a full season order of 22 episodes was announced. [1]
The Season 2 Blu-Ray and DVD were released on September 21, 2009.
Season Summary
[
]
While the ever-evolving technological enemy grows stronger, 16-year-old John begins taking the steps necessary to embrace his destiny as the savior of mankind. John finds himself caught between his fearless protector, the beautiful but potentially dangerous cyborg, Cameron, and his new love interest, Riley Dawson, who represents freedom but also a potential risk to his safety. John's mother Sarah Connor is as determined as ever to keep her son alive, and his uncle, Derek Reese, continues to fight alongside the Connors.
After Cromartie, the T-888 sent from the future, spared FBI Agent James Ellison's life, Ellison has become a believer, accepting that "no one is ever safe". Agent Ellison is now bent on understanding his role and his purpose. Catherine Weaver, CEO of ZeiraCorp, may just know where to find the answers Ellison is looking for.
In Season Two, life for the Connors intensifies as their relationships are challenged and the present and the future begin to become one. The Connors are now forced to ponder how long Cameron can protect them before they're discovered by Skynet.
Characters
[
]
In credits order.
In order of appearance.
Opening Monologue
[
]
"In the future, a computer program called Skynet will declare war on the human race. Machines have traveled back in time, taking human form to terminate: John Connor, the future leader of the Resistance; Sarah Connor: John's mother, teacher, and protector; Cameron: a terminator reprogrammed to defend them at all costs; Derek Reese: John's uncle, and a commanding officer with the Resistance. Together, they fight to stop Skynet from ever being created. The battle for our tomorrow starts today."
Notes
[
]
The official trailer, Comic Con preview, and Opening monologue videos can be found on the discussion page.
The opening monologue received heavy fan criticism. [citation needed]
As of the fifth episode ("Goodbye to All That"), the opening monologue no longer appears.
Continuation
[
]
It is now a known fact that Season 3 is not to be. This is likely due to Season 2 having received ratings below the network average for their Monday night time slot. It was technically cancelled after the thirteenth episode. However, it was "renewed" and given its "Back Nine" episodes shortly after. The show was then moved to the "Friday Night Deathslot" to act as a lead-in to Joss Whedon's Dollhouse, unfortunately resulting in a further loss of overall viewers.
Despite the loss of viewers, the remaining episodes showed a marked increase in DVR viewers, bringing its numbers closer to its Monday ratings. It is well known that DVR numbers lack the same influence as live viewers, however. Following the finale episode, fans of the show banded together and repeatedly won numerous online polls for the show, including the E! Online "Save The Show" poll (winning with 53% of the votes).
It has also received many positive reviews from various sources, including CNN, all of which urge for a renewal of the series. However, none of these appeals were successful and the show was not renewed for the 2009 fall lineup.
When the series was officially cancelled by FOX, many fans and, as rumoured by an "insider", many within FOX itself were quite surprised. This same "insider" has also speculated that the show might one day return, but that was not to be. Fans of the show even pleaded to the cable network SyFy to pick up the series, but even with a twitter response from SyFy suggesting possible consideration by the network, this did not come to pass either.
Episode List
[
]
Image
Title
Writer(s)
Director(s)
Airdate
#
Episode 201: Samson & Delilah
Writer: Josh Friedman
Director: David Nutter
September 08, 2008
#201
Rocked by the Jeep explosion, John's 16th birthday forces him to confront the reality of his destiny alone. Meanwhile, Agent Ellison faces off with his faith and the Feds in the aftermath of Cromartie's massacre, and a new player is introduced, Catherine Weaver, who is the CEO of a high-tech corporation.
Episode 202: Automatic For The People
Writer:

Natalie Chaidez

Director:

Jeffrey G. Hunt

September 15, 2008
#202
Sarah and Cameron take it upon themselves to investigate a nuclear power plant. John becomes less enthusiastic about academics, but flourishes socially with the help of a new friend. Meanwhile, Catherine Weaver gains another piece of the puzzle for her pet project.
Episode 203: The Mousetrap
Writer:

John Wirth

Director:

Bryan Spicer

September 22, 2008
#203
Sarah and Derek are put to the test after Cromartie kidnaps Charley's wife; John is in a sticky situation of his own when he finds himself caught between Cameron and Riley.
Episode 204: Allison From Palmdale
Writer: Toni Graphia
Director: Charles Beeson
September 29, 2008
#204
A software glitch causes Cameron to forget who she is. She goes missing from the Connors and is taken in by a street kid named Jody. Cameron and Jody end up at a halfway house where Cameron meets with a social worker who uncovers some of Cameron's distant memories. Meanwhile, Catherine Weaver meets with Agent Ellison to discuss his future at Zeira Corp, and Ellison does some digging into Weaver's past.
Episode 205: Goodbye To All That
Writer:

Ashley Miller

& Zack Stentz
Director:

Bill Eagles

October 6, 2008
#205
John and Derek infiltrate a military academy in order to protect an integral member of the future resistance. Meanwhile, Weaver's first assignment for Ellison takes an interesting turn of events when he discovers a specter from his own past.
Episode 206: The Tower Is Tall But The Fall Is Short
Writer: Denise Thé
Director: Tawnia McKiernan
October 20, 2008
#206
What would a T-1001 need with a Doctor? Sarah, John and Cameron may soon find out as they track down another name on their list. Elsewhere, a woman from Derek's past surprises him in the present.
Episode 207: Brothers of Nablus
Writer:

Ian Goldberg

Director: Charles Beeson
November 3, 2008
#207
The Connors find themselves on high alert and in odd company after their house is robbed. Elsewhere, one Terminator terrorizes Ellison, while another gets dangerously close to John Connor. Meanwhile, Derek and Jesse continue to get reacquainted.
Episode 208: Mr. Ferguson is Ill Today
Writer:

Daniel Thomsen

Director:

Michel Nankin

November 10, 2008
#208
John and Riley's impromptu trip to Mexico results in deadly consequences, while Sarah and Ellison finally come face-to-face.
Episode 209: Complications
Writer: John Wirth & Ian Goldberg
Director:

Steven DePaul

November 17, 2008
#209
Sarah's mystifying nightmares creep into her real life – but what do they mean for her and John? Meanwhile, Derek and Jesse investigate a possible Skynet conspirator.
Episode 210: Strange Things Happen at the One Two Point
Writer:

Ashley Miller

and Zack Stentz
Director:

Scott Peters

November 24th, 2008
#210
Sarah's obsession with the three dots pays off. Ellison is introduced to someone very important.
Episode 211: Self Made Man
Writer: Toni Graphia
Director:

Holly Dale

December 1, 2008
#211
She never sleeps, so what does she do at night? Cameron's surprising, secret life is revealed in an all-new installment. Plus, history is forever changed when a Terminator is sent back to the wrong time.
Episode 212: Alpine Fields
Writer: John Enbom
Director: Charles Beeson & Bryan Spicer
December 8, 2008
#212
Sarah and Cameron work to save a family on the list with a connection to Derek in the future. Meanwhile Jesse's life hangs in the balance.
Episode 213: Earthlings Welcome Here
Writer: Natalie Chaidez
Director: Felix Enriquez Alcalá
December 15, 2008
#213
Sarah attends a UFO Convention looking for answers. Her obsession with the three dots intensifies when she tracks down a blogger with intimate knowledge of the symbol, and she ends up finding something she never expected. Meanwhile; Riley gets closer to John and faces off with Cameron.
Episode 214: The Good Wound
Writer: Ashley Miller & Zack Stentz
Director: Jeff Woolnough
February 13, 2009
#214
An injured Sarah is guided by the image of John's father, Kyle Reese, while Weaver's move to protect John Henry results in deadly consequences.
Episode 215: Desert Cantos
Writer: John Wirth & Ian Goldberg
Director: J. Miller Tobin
February 20, 2009
#215
Sarah, John, Cameron and Derek investigate the company town connected to the destroyed factory while Weaver sends her own man into town in search of a potential survivor.
Episode 216: Some Must Watch, While Some Must Sleep
Writer: Natalie Chaidez & Denise The
Director: Scott Lautanen
February 27, 2009
#216
Haunted by nightmares of the man she killed in the factory, Sarah checks in to a sleep clinic. When suspicious things begin happening, Sarah suspects Skynet may be using the facility for brain-mapping.
Episode 217: Ourselves Alone
Writer: Toni Graphia & Daniel T. Thomsen
Director: Jeff Woolnough
March 6, 2009
#217
The return of Cameron's glitch results in regrettable consequences for everyone, and Riley fears Cameron has discovered her secret.
Episode 218: Today Is The Day, Part 1
Writer: Ashley E. Miller & Zack Stentz
Director: Guy Norman Bee
March 13, 2009
#218
Jesse flashes back to a life-altering mission aboard her submarine, the Jimmy Carter. Sarah and John decide they can't continue living in their house and make plans to leave.
Episode 219: Today Is The Day, Part 2
Writer: Ashley E. Miller & Zack Stentz
Director: Guy Norman Bee
March 20, 2009
#219
Jesse's submarine mission in the future takes a fatal turn that has unforeseen consequences for John, Sarah and Derek (Brian Austin Green) in the present. Also, Sarah deals with Cameron, who has become a liability, and John steps up and makes a life-or-death choice.
Episode 220: To the Lighthouse
Writer: Natalie Chaidez
Director: Guy Ferland
March 27, 2009
#220
Fearing for her life, Sarah stashes John in a safe house with the only person she believes she can rely on, Charley Dixon. Cameron and Derek struggle to work together after she reveals a big secret, and Weaver's entire effort is at risk when John Henry is compromised – but by whom?
Episode 221: Adam Raised a Cain
Writer: Toni Graphia
Director: Charles Beeson
April 3, 2009
#221
When John attempts to rescue Skynet's latest target he finds himself closing in on Weaver, but at what cost? Game plans change leading Sarah and Ellison to reunite, while Weaver learns Ellison's secrets.
Episode 222: Born to Run
Writer: Josh Friedman
Director: Jeffrey Hunt
April 10, 2009
#222
Fate is changed forever on the explosive season finale episode! The Connors come face-to-face with Weaver in a confrontation that shakes John to the core and changes his reality. Nothing will be the same.