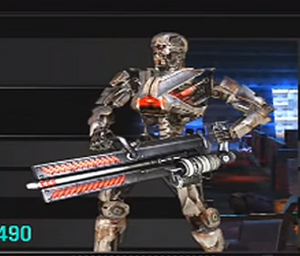 The T-720 is a variant of T-700 series Terminator in Genisys timeline.
Specification
Edit
The T-720 is presumably a heavy Terminator. T-720 features more armor plates on its Combat chassis (Endoskeleton), which shares similar design with the T-800, with higher durability compared to T-800 and it is equipped with a heavy plasma rifle which is also carried by some T-800 units.
A T-720 unit usually accompanies several units of its kind along with multiple T-800 units.
Different to T-800, the T-720 features a torso that glows in red.
Appearance
Edit
Skynet Infantry Unit from Genisys timeline

Community content is available under
CC-BY-SA
unless otherwise noted.