Wiki Targeted (Entertainment)
Play Sound
Prior timeline: Sarah Connor§Terminator 2: Judgment Day

After the destruction of Cyberdyne Building, Sarah Connor and her son, John Connor went into hiding from both authorities and possibly assassins sent by Skynet from the future.
T2 3-D: Battle Across Time

[

]
Sometime after the destruction of Cyberdyne Building, Sarah Connor and her son, John Connor, learned that Cyberdyne Systems was still developing Skynet and they intruded a presentation held hosted by Kimberley Duncan for investors. However, another T-1000 tracked down John Connor and tried to kill him after it killed Duncan. The T-800 suddenly showed up from Time Portal and saved John, telling him "I said I'd be back. Come with me if you want to live." Sarah told John to follow the T-800 and it then gave John a ride to the future from the Time Portal.
After Skynet was destroyed in the future while John left via the Time Displacement Equipment, Sarah commented that she owe her son's life the the T-800 again. T2 3-D: Battle Across Time
Cybernetic Dawn timeline

[

]
T2 Trilogy timeline

[

]
Six years after the destruction of the Cyberdyne Systems headquarters, Sarah and John lived in Paraguay under the alias "Suzanne Krieger" and "John Krieger", both hiding from the FBI and the US government. She owned her own company known as "Krieger Trucking", while also being a professional smuggler. Both her and John were well liked by the community.
Sarah met Dieter von Rossbach, the original human template for the CSM-101. After being attacked by Terminators, Dieter came to believe her story about Skynet and helped her and John. Sarah eventually fell in love with him, later marrying him.[book needed]
Sarah was still alive in 2029 and witnessed the departure of both Kyle Reese and "Uncle Bob". T2: The Future War
The New John Connor Chronicles

[

]
Skynet's World timeline
[
]
After John Connor and the T-800 rescued Sarah Connor from Pescadero State Hospital and fled the T-1000, the three found refuge at Enrique Salceda's camp in desert.
Later, John realised Sarah was about to do something rash, and talked her out of leaving the camp to attempt to assassinate Miles Dyson. Sarah and John then move to the paramilitary Estancia of one of her old friends, Raoul Tejada, in Argentina.
After Judgment Day occurred on August 29, 1997, John Connor began gathering human forces to form the Resistance for an eventual direct assault on Skynet. Over the years, his fame began to spread and respect for him grew.
In 2003, the T-1000 tracked down John Connor. It killed and impersonate Raoul. Nevertheless, it was destroyed by estancia.
However in 2012, the T-800, Sarah Connor, and Paco Salceda were killed during the Battle of Buenos Aires. Dark Futures
Jade's World timeline
[
]
In 2001, Sarah and John began to think they might strike Cyberdyne Systems again. However, both of them were killed in 2007 when they were trying to destroyed Skynet, which became online in the same year.
John's World timeline
[
]
The Sarah Connor Chronicles timeline

[

]
Main article: Sarah Connor/The Sarah Connor Chronicles
In 1999, Sarah and John were living under alias with Charley Dixon, who did not know their real identities. After Charley proposed, Sarah decided it was time to move. Their moving caught the attention of a Terminator sent to kill John, as well as Cameron, who was sent to protect him. With Cameron's help, they jumped forward to 2007 via Time Displacement Equipment to stop the creation of Skynet. "Pilot"
Rise of the Machines timeline

[

]
Main article: Sarah Connor/Rise of the Machines
After a three year long battle with leukemia, Sarah died in 1997. As stated by John, Sarah fought long enough to make sure the original date Judgment Day was destined to happen did not come to pass.
Dark Fate timeline

[

]
Main article: Sarah Connor/Dark Fate
Due to the destruction of Cyberdyne Systems headquarters, the original Judgment Day never came to pass. In the year 2020, Sarah helped Grace Harper protect the future leader Dani Ramos from a Rev-9 sent to kill her.
Crossovers
[
]
Terminator/Robocop: Kill Human

[

]
Fortnite

[

]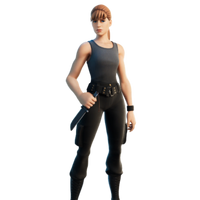 | | | |
| --- | --- | --- |
| " | She was just a girl from LA, but destiny had big plans for her. | " |
In the online game Fortnite Battle Royale, Sarah Connor is featured as an Epic Outfit as a part of the Future War Set, recruited by John Jones.
Selectable Styles
Sarah Connor
Resistance Leader
Appearances
[
]
Films
Television series
Main article: Sarah Connor (TSCC)
Comics
Novels
Video games
References
[
]