Wiki Targeted (Entertainment)
Play Sound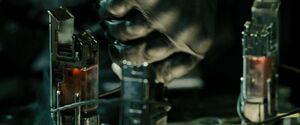 The T-800 Terminator is powered by an nuclear power cell (or nuclear-energy cell), located in the same approximate position as a human's heart, and is shielded in a case-hardened subassembly inside the triple-armored hyperalloy torso.[1]
Specification
[
]
The cell could supply enough power to run the lights of a small city for a day and could allow a T-800 to operate at full power for twenty-four hours per day for 1,095 days.[1]
It could last significantly longer than this if the unit dropped off-line into economy mode. In this mode, power was cut to 40 percent of nominal function.[1]
Compact energy sinks collected and stored excess energy for later use, optical systems switched to infra-red only and motivation units lost 40 percent of hydraulic pressure as the pumps slowed. Combat situations notwithstanding, the T-800 has a functional period of 120 years on one power cell.[1]
Notes
[
]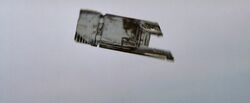 Gallery
[
]
Quote
[
]
"Where a man's heart would be, shielded in a case-hardened subassembly inside the hyperalloy torso, was the nuclear-energy cell. it supplied power to run the most sophisticated system of hydraulic actuators and servo-motors ever constructed, enough power to run the lights of a small city for a day. it was designed to last (the) Terminator considerably longer, especially if intense activity was varied with conservation procedures. When (the) Terminator dropped off-line into economy mode, compact energy sinks collected and stored the excess. If the torso was breached and these vital power supplies disturbed, (the) Terminator could be stopped. But the torso was triple armored with the densest alloy ever smelted. (the) Terminator could keep operating at full power for twenty-four hours a day for 1,095 days. During that time it would certainly have opportunities, like now, for economy mode, where power was cut to 40 percent of nominal function. The optical system switched to infra-red only. The motivation units lost 40 percent of hydraulic pressure as the pumps slowed. Power was shunted into sinks and stored."
— The Terminator (Frakes novel)
References
[
]