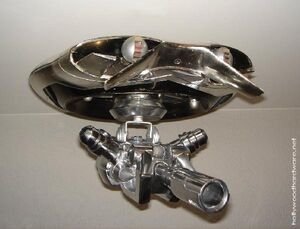 The Mini Hunter is a micro-turbine airborne Hunter-Killer developed by Skynet. The Mini Hunter is an agile predator with a single underslung Plasma cannon and a compact, high-lift aerodyne fan which turns on frictionless bearings in order to reduce noise levels. They are designed primarily to survey a battlefield and transmit telemetry back to Skynet forces during attacks. An HK-Aerial is able to store several Mini Hunters.
Mini Hunters can be brought down by small firearms and plasma weaponry.[1]
Movies
Community content is available under
CC-BY-SA
unless otherwise noted.