The name or term "Matt" refers to more than one character or idea. For a list of other meanings, see Matt (disambiguation).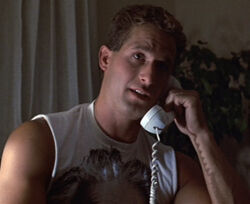 "Don't make me bust you up, man!"
- Matt while fighting the T-800. The Terminator
Matt Buchanan was the boyfriend of Ginger Ventura. He had a friendly, outgoing, and slightly clownish personality and seemed to like Sarah (though she refers to him as "creep"). When calling Ginger and Sarah's apartment, he mistook Sarah for Ginger and began a lengthy, rehearsed seduction speech; only to be embarrassed when Sarah identified herself. On May 13, 1984, he arrived at the apartment for a night in with Ginger, and was later killed by the Terminator after putting up a valiant fight in his underwear. Sarah is later informed of Ginger and Matt's murder by Lieutenant Traxler, causing Sarah to burst into tears.
Notes
It is notable that Matt had a valiant fight against the Terminator.
Behind the Scenes
Matt was portrayed by Rick Rossovich and for his character's death scene where he is thrown violently through the hallway wall, he was doubled by stuntman Pete Turner.
In the script for The Terminator, Matt's last name was "McCallister".
Appearances