Mackenzie Brooke Smith was born in Florida and from the beginning demonstrated a keen ability to entertain and perform. At the tender age of four, Mackenzie booked her first commercial in Texas. She enjoyed is so much the work couldn't come in fast enough for her. At the age of 5, Mackenzie received representation offers in New York and Los Angeles and Mackenzie chose to work in Los Angeles. In 2006, her family made the move to California and since her arrival, Mackenzie has consistently kept busy. Outside of her career, Mackenzie enjoys Art, Fashion Design, Singing, playing the guitar and Martial Arts.[1]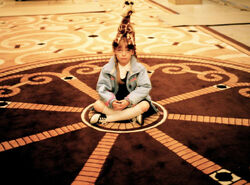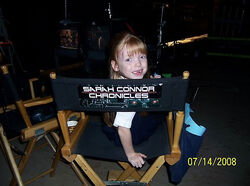 Terminator Roles
Appearances
She plays Savannah Weaver, daughter of Catherine Weaver on Terminator: The Sarah Connor Chronicles.
Behind the Scenes
See candid photos of her with Terminator cast members on the right.
Interviews
According to her official site, Mackenzie was utterly excited to have booked such an amazing role. She plays the daughter of a corporate CEO played by Garbage's front girl, Shirley Manson. Everyone on set was so amazing and welcomed Mackenzie with open arms.[2]
Acting Roles
Television
Terminator: The Sarah Connor Chronicles (2008) — Savannah Weaver
Pushing Daisies (2007) — Young Lily Charles
Til Death (2007) — Child #3
Film
Growth (2009)
The Passenger (2009)
National Treasure: Book of Secrets (2007)
Hott 4 Hill (2007)
Additional Works
Mackenzie has participated in Disney Stores Print Ads (as Ariel), and national commercials for Toyota and Walmart.
Awards
In 2009, she was nominated for a Young Artist Award in the category Best Performance in a TV Series - Recurring Young Actress for her role on Terminator: The Sarah Connor Chronicles.
External links
References