Jurassic World: Dominion Dominates Fandom Wikis - The Loop
Play Sound
James Cameron is the creator of the Terminator franchise, starting from the first film The Terminator. In 1984, he wrote and directed The Terminator, a futuristic action-thriller starring Arnold Schwarzenegger, Michael Biehn, and Linda Hamilton and the film was a huge success. After this came a string of successful science-fiction action films, such as Aliens (1986), Terminator 2: Judgment Day (1991), and Avatar (2010).
Personal Life
[
]
Cameron was born in Kapuskasing, Ontario, Canada, on August 16, 1954. He moved to the USA in 1971. The son of an engineer, he majored in physics at California State University but, after graduating, drove a truck to support his screen-writing ambition. He landed his first professional film job as art director, miniature-set builder, and process-projection supervisor on Roger Corman's Battle Beyond the Stars (1980) and debuted as a director with Piranha Part Two: The Spawning (1981) the following year.
James Cameron was financially destitute before The Terminator was released. Back in 1983, his car was repossessed and his mom supported him through Burger King coupons. Today, thanks to his successful filming career, he has a net worth of $900 million, projected to increase when his future films are released.
James has been married five times: Sharon Williams (1978-1984), Gale Anne Hurd (1985-1989), Kathryn Bigelow (1989-1991), Linda Hamilton (1997-1999, one daughter), and Suzy Amis (2000-, one son, two daughters). James was formerly married to producer Gale Anne Hurd, who produced several of his films. He married Kathryn Bigelow in 1989, and they divorced in 1991. He married his Terminator actress star Linda Hamilton in 1997, six years after she starred in Terminator 2. They had one daughter together, and divorced in 1999.
The Terminator: From Idea to Movie

[

]
See also: James Cameron on Terminator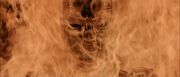 While James Cameron was on a trip to Rome (Italy),[1] he became very ill with a high fever. One night, he had a terrible nightmare about a chrome-colored skeleton staring at him in a pillar of fire. "It was this chrome skeleton emerging phoenix-like out of the fire"[2]. This was his very first "vision" of the Terminator robot. He sketched out some quick drafts. "He had a kitchen knife and pulled himself along the floor with it, dragging his broken arm. I also sketched the girl trying to get away from it. [...] I thought, 'that was cool'. I've never seen that in a movie before."[2] The film The Terminator later featured a scene with a T-800 endoskeleton and flames in the background. A scene, more similar to James nightmare is in the intro of the film Terminator 2: Judgment Day, where the head of a T-800 endoskeleton is staring through the flames at the viewer. The title poster of T2 3-D: Battle Across Time and many other similar works to come stemmed from those film moments.
The Terminator rights

[

]
James Cameron announced Terminator 3 many times during the 1990s but without coming out with a finished script. During his divorce with Linda Hamilton, she asked for the Terminator franchise rights which she promptly sold to Carolco Pictures owners Mario Kassar and Andrew Vajna. Tedi Serafian wrote a script, but as it would cost over $300 million and it was rejected. Serafian earned a "story" credit after screenwriters John D. Brancato and Michael Ferris used some of his ideas, such as Sarah Connor being dead, and a rival Terminator being female (T-X).
The studios had long wanted to make a sequel to the Terminator films. However, they were not sure that Arnold Schwarzenegger would appear in it. Schwarzenegger initially refused to star in Terminator 3 because James Cameron, who created the character and directed the first two films, would not be directing the third installment. Schwarzenegger tried to persuade Cameron to produce the third film. Cameron declined, however, and feeling that the Terminator character was as much Schwarzenegger's as it was his own, he advised Schwarzenegger to just do the third film, and ask for "nothing less than $30 million".
After Terminator 3: Rise of the Machines was released, Cameron would go on record as saying he "never planned on doing a third film, because the story was finished with T2." This conflicts with comments he made during the making of the Universal Studios ride T2 3-D: Battle Across Time, in which he stated that it was a "stepping stone to a third theatrical production."[3]
Later, James Cameron approved of Terminator Genisys and his endorsement line "You are going to love this movie" was televised. Despite his endorsement, many Terminator fans claimed that they felt the movie did not do justice for James Cameron due to the unsatisfying plot, acting and special effects of Alan Taylor's film.[citation needed] In addition, Arnold Schwarzenegger disliked Paramount Pictures using James Cameron's endorsement as promotion material for Genisys, because he thinks the film can stand on its own. [4]
The rights to Terminator would later revert back to James Cameron in 2019. In Addition, James Cameron announced he would return to helm the 6th Terminator film when he regains the rights, but Tim Miller was expected to direct the film instead of Cameron. The film is produced as Terminator: Dark Fate and disregards Terminator 3: Rise of the Machines, Terminator Salvation, and Terminator Genisys as it is a direct sequel to Terminator 2: Judgment Day.[5]
Filmography in Terminator franchise

[

]
Gallery
[
]
Behind the Scenes
[
]
Concept arts
[
]
Videos
[
]
References
[
]
External links
[
]