Doctor Strange in The Multiverse o Madness - The Loop
Play Sound
George Laszlo was an unemployed actor who had previously been a rhinoplasty patient of plastic surgeon David Lyman.
Biography
[
]
Terminator: The Sarah Connor Chronicles Season One

[

]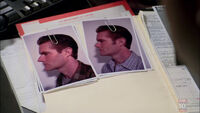 When Cromartie broke into Dr. Lyman's office, he chose Laszlo's face as a template for his new identity because the facial structure was a 92% match to his own endoskeletal face. After Lyman performed the facial-reconstructive surgery, Cromartie killed him.
Agent James Ellison questioned the real George Laszlo as a suspect in the murders of the two professionals who worked on Cromartie, and the three bodies found at the Resistance safe house. During the questioning, Ellison was able to elicit a voluntary blood sample from an angry Laszlo for comparison to the samples found at the crime scenes. As an actual human, Ellison's investigation into Laszlo would be derailed when his blood sample came back from the lab as normal.
After Laszlo returned home following the questioning, Cromartie followed him and terminated him after gaining some visual insight into Lazlo's facial expressions. Agent Ellison went to Laszlo's apartment to follow up and tell him he was off the hook, and met Cromartie acting in his stead, failing to discern the disarray of the apartment as signs of the struggle where Laszlo was terminated. "Heavy Metal"
Terminator: The Sarah Connor Chronicles Season Two

[

]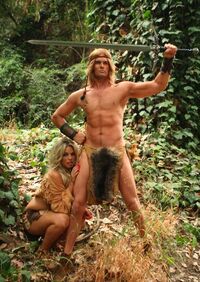 Laszlo's corpse was found in the aftermath of the failed FBI assault on Cromartie's new hideout, Laszlo's apartment, and Agent Ellison apologized to it after conspiring to lay the blame for the slaughter on the dead actor, rather than have to attempt to explain the real course of events.
In a bizarre turn of events due to his being named as the shooter in the deaths of 20 FBI agents, George Laszlo undergoes a posthumous revival of his acting career, resulting in the cult re-release of his "direct-to-DVD" flop, Beast Wizard VII.
Notes
[
]
A significant oversight on the part of the FBI, and perhaps on the show's writers, in finding Laszlo's remains after the massacre, is that Laszlo had been dead for quite some time. His body would have decomposed to a noticeable degree. An autopsy, which would certainly be performed after such an event would show this, and it would also show the true cause of death.
Appearances
[
]
Quotes
[
]
(Sword swishing on Kacy's bootleg cable)
Man on TV: Beast wizard, the kingdom of fuel will never be yours.
Lazlo: Now, now Seth. That's no way to treat your brother.
TV Announcer: Beast Wizard 7. The low budget film nobody saw, when it was released direct-to-video two years ago, has earned $6 million and newfound star status when its star, George Lazlo, inexplicably killed 20 members of an FBI hostage rescue team in a shootout at his Reseda apartment. The massacre you may recall, also took the actor's life.
Kacy: A friend of mine from culinary school, did craft services on that movie. She liked the guy. He ate with the crew. This town can screw you up.