Wiki Targeted (Entertainment)
Play Sound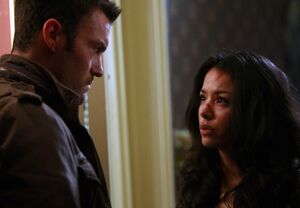 Jesse flashes back to a life-altering mission aboard her submarine, the Jimmy Carter. Sarah and John decide they can't continue living in their house and make plans to leave.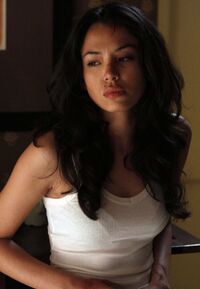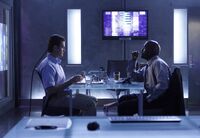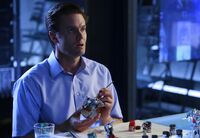 The Connors have no choice but to leave their current house. During a conversation with Kacy (whose baby is finally born), Sarah learns that Riley's body was found, dumped in a river. She tells this to John and they both suspect Cameron. The latter asks Cameron if she killed Riley; she says no but John doesn't believe her. However, they collaborate to trick her foster father into thinking that she's still alive.
Jesse rebukes the advances of a Navy officer but luckily Derek manages to get her out of a brawl with his comrades. She learns of the Riley's corpse discovery and that John blames Cameron.
In flashbacks in 2027, Jesse is on the USS Jimmy Carter. After eluding a Kraken, the reprogrammed T-888 says that new orders from John Connor are to recover a certain package. The retrieval team meets with three Terminators, who give the package.
Savannah Weaver wants to play hide-and-seek with her "mother", who isn't interested. John Henry leads her to him, and plays a version of hide-and-seek with him. While she's hiding, Catherine Weaver and James Ellison go to John Henry and ask him where she is. However, he challenges them to a game of riddles that contain clues to Savannah's whereabouts. Ellison solves the riddle and finds Savannah.
Ellison was upset, not only because John Henry seemed to risk Savannah's life, but also because his boss didn't seem particularly upset about Savannah's disappearance. He believed there was no point of teaching John Henry ethics if he refused to follow the rules.
---
---
---
---
---
Riley's death serves as the back story of the storyline with John and Cameron developing a defense for themselves. John breaks into the morgue and notices the defensive wounds.
Sumner was present in the opening scenes. He would join Derek on his mission to the past.
It is possible that, during the events of this mission, Derek Reese was sent on his mission to the past.
Jesse attempts to manipulate Derek into thinking Cameron murdered Riley.
Shortly after calling General Quarters, she theorizes they may be under attack by a ASW Bot.
No one on board the Jimmy Carter other than Queeg knows what is in the package, until some crew members decide to open it in the next episode.
Sarah confronts Cameron about her lies.
Derek's sniper rifle from "Goodbye to All That" is mentioned by Sarah. She says the only reason she didn't use it was because it would hurt John if Cameron were destroyed.
GOOF: Despite being dead, Riley's stomach moves. Also, Riley's cheeks and forehead were too reddish in colour for a corpse having been dead more than 24 hours. Her complexion should have been pale bluish-white.
Jesse and Dietze discuss the mission's secrecy, with Jesse remaining loyal to Queeg. They also touch on Jesse's boyfriend, Derek. Dietze is concerned about Derek's well-being.
(This episode doesn't have any Terminator reference yet. Please add one if there is any.)
The name "Kraken" is a reference to the mythological giant sea monster of the same name.
Q: Why did Jesse Flores spark a fight with the sailors?

A: She was already injured by her fight with Riley Dawson, so it is possible she needed an excuse for how she got them before she met Derek Reese other than the fact she is angry.
Q: Is the Oil Rig Terminator the same as the one with Derek in "Dungeons & Dragons"?

A: No. The T-600 has different rubber skin coverings from the T-600 that dragged the Resistance members into the basement.
Q: What did John and Cameron gain by tricking Riley's foster parents into not going to the police? It appears very risky, considering that Riley's body will be identified eventually and it will create another mystery how Riley could call her foster parents while her body was already in the morgue.
Q: Cameron's "I love you" told to John by cellphone, was it just her own plan to raise John's feelings in front of Riley's foster father or was it her true intention, true feeling to John?
(This episode doesn't have any reference yet. Please add one if there is any.)
Community content is available under
CC-BY-SA
unless otherwise noted.