Wiki Targeted (Entertainment)
Play Sound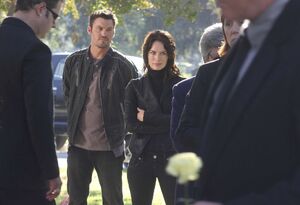 Sarah, John, Cameron and Derek investigate the company town connected to the destroyed factory while Weaver sends her own man into town in search of a potential survivor.
Synopsis
[
]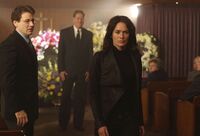 A funeral is given out for the thirty workers from the "water and heating" plant that was recently destroyed, something that the Connors attend. But they soon learn that one of the workers had survived, on the run from one of Weaver's agents, bringing with him a prototype flying drone. He is pursued by Walsh, an agent hired by Catherine Weaver. Walsh was left dead by a pool, as a drone flew out of the pool to his truck.
At ZeiraCorp, many people are remembering the anniversary Mr. Weaver's death. Ellison convinces Weaver to connect with her daughter.
Characters
[
]
Quotes
[
]
Continuity notes
[
]
Sarah is still having difficulty getting over the death of Ed Winston.
The TSCC Drones were established as being real and not a hallucination.
Notes
[
]
The "death" and the funeral play a role in this episode.
In remembrance of Lachlan Weaver's death, ZeiraCorp staff members wear plaid on the anniversary of his death.
The T-1001 is cool to the touch according to dialogue.
Deleted scenes
[
]
(This episode has no information about the deleted scenes so far. Please add one if there is any.)
Terminator references

[

]
In the novel T2: The Future War, it is mentioned that the collaborators are in charge of the Work Camps and monitored the human prisoners.
Real-world references
[
]
(This episode doesn't have any real-world reference yet. Please add one if there is any.)
Q&A
[
]
Q: Why does Catherine Weaver know there is a survivor from the warehouse incident?

A: Possibly she learns from the computer when in the warehouse.
Q: What's that weird number on the truck the drone lands in? It starts with "DOT"?

A: It stands for "Department of Transportation". All Semi Trucks have one assigned to them as part of their registration.

Q: Is the father a government operative returning the drone?
Q: How is Weaver connected to the warehouse and the drone?
References
[
]
(This episode doesn't have any reference yet. Please add one if there is any.)
External links
[
]