Born Dean Gerard Winters
in New York City, he was raised from a mixed heritage with his Irish father and Italian mother — Dean can speak fluent Italian. He is the eldest of his three siblings: Scott who is also an actor, Bradford who is a writer and poet, and his sister named Blair, who runs a pediatric AIDS unit in Manhattan. After graduating college and traveling in Europe, Dean settled in New York City and tended bar with his brother Scott. Scott, the more experienced actor, convinced Dean to take acting classes, which he immediately enjoyed. Dean got his lucky break when Tom Fontana, a regular bar customer, noticed and befriended the brothers. At the age of 28, Dean got his late start in the acting game rolling when Tom Fontana offered them work. After seeing Dean's work, Tom Fontana (creator of
Oz
) later cast Dean as the manipulative and crafty inmate Ryan O'Reily on the popular HBO prison drama
Oz
.
[1]
[2]
Terminator Roles
Edit
Appearances
Edit
He plays Sarah Connor's former fiancé, Charley Dixon, on Terminator: The Sarah Connor Chronicles.
Behind the Scenes
Edit
In the original pilot, the Charley Dixon character was named Burke Daniels, and played by Tim Guinee.
Interviews
Edit
This actor currently has no interviews for a terminator role. Please add one!
Acting Roles
Edit
Television
Edit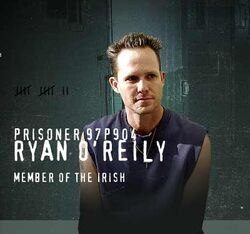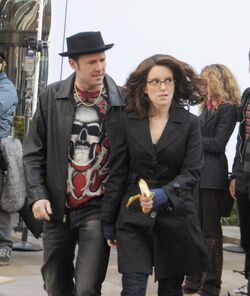 Winters is best known for his portrayal of the Machiavellian Ryan O'Reily on HBO's Oz. He joined Rescue Me as Johnny Gavin, Tommy's (Denis Leary) well-connected police officer of a younger brother who was shot to death during a stake-out at the end of the season 3. In 2006, he played Dennis Duffy on the first season of 30 Rock as Liz Lemon's (Tina Fey) sleazy boyfriend, who is the last remaining beeper salesman in New York City and has been known as "The Beeper King". Dean has said of 30 Rock that "It's probably one of the funniest things I've ever been a part of".[3]
His other credits include:
Terminator: The Sarah Connor Chronicles (2008) — Charley Dixon
30 Rock (2006-2008) — Dennis Duffy
CSI: Miami (2005) — Raymond Caine
Rescue Me (2004-2007) — Johnny Gavin
Law & Order: Special Victims Unit (1999-2000) — Detective Brian Cassidy
Sex and the City (1999) — John McFadden
Millennium (1999) — Young Michael Lanyard
Oz (1997-2003) — Ryan O'Reily
Some of his recent roles were in the thriller Dead Calling and the romantic comedy P.S. I Love You, where he co-starred with Hilary Swank, Gerard Butler and Lisa Kudrow. Winters is currently filming Winter of Frozen Dreams a crime drama, and a comedy called Sweet Flame starring Jeremy Sisto and Mira Sorvino. He is also rumored to be in 39 an action/comedy about mobsters trying to get a hold of the right suitcase.
A selection of past films:
Devil You Know (2008) — Jake Kelly
P.S. I Love You (2007) — Tom
Dead Calling (2006) — Nick
Bristol Boys (2005) — Randy
Brooklyn Bound (2004) — Danny
Snipes (2001) — Bobby Starr
Undercover Angel (1999) — Harrison Tyler
Conspiracy Theory (1997) — Cleet
Additional Works
Edit
Dean Winters was in Shyne's music video 'Bonnie and Shyne'. He made an appearance on the sketch comedy show Saturday Night Live as his character Ryan O'Reily in 1999. He also appeared in his Rescue Me co-star Dennis Leary's TV special Comedy Central Roast of Denis Leary in 2003.
This actor currently has no awards. Please add one!
External links
Edit
References
Edit
Community content is available under
CC-BY-SA
unless otherwise noted.