Wiki Targeted (Entertainment)
Play Sound
An alternate timeline, as its name suggests, is a timeline different to another, usually caused by temporal interventions due to time travelling mission(s). For example, in The New John Connor Chronicles timeline, there are three different alternate timelines caused by various time travelling missions: Skynet's World, Jade's World (caused by Destruction of Cyberdyne Building, and John's World (caused by a team of Specialists travelling from 2036 to 2001).
Another example is Genisys timeline, due to the attempted assassination of Sarah Connor in 1973, Sarah Connor has already well trained to fight against the Machines in 1984, whereas in most of the timelines, Sarah Connor is just an ordinary person before her encounter with the T-800 and Kyle Reese in 1984.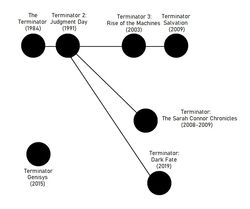 Community content is available under
CC-BY-SA
unless otherwise noted.