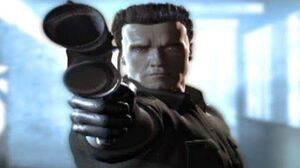 In Rise of the Machines timeline, Skynet sent a T-850 Terminator to assassinate John Connor on 4 July 2032.[1] The mission was completed as John Connor was terminated by the T-850 before it was captured by the Resistance and reprogrammed. Terminator 3: Rise of the Machines (video game) Terminator 3: The Redemption General Kate Connor sent the T-850 through Continuum Transporter 24 July, 2004 to protect her and John Connor's younger selves from the T-X sent by Skynet.
↑ The T-850 tells John and Kate about John's death and the date as seen in Terminator 3: Rise of the Machines.
Community content is available under
CC-BY-SA
unless otherwise noted.