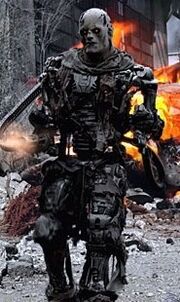 2018 is the year that the events in the movie Terminator Salvation occur.
Key Events
The Resistance finds a flaw in the communications protocols of the Terminator, allowing them to temporarily shut the machines down. This leads to plans of a worldwide attack.
John Connor meets Kyle Reese for the first time.
Skynet Central is destroyed by the Resistance.
John Connor is very nearly killed. He is saved when Marcus Wright gives him his heart for a heart transplant.