Wiki Targeted (Entertainment)
Play Sound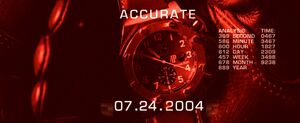 In Rise of the Machines and Salvation timelines, Judgment Day occurred in 2004.
John's World timeline
[
]
After destroying Skynet forces in both Skynet's World (2029) and Jade's World (2036), the Connors returned to their home timeline, John's World. Times of Trouble
Rise of the Machines timeline

[

]
Main article: Terminator 3: Rise of the Machines (film)

24 July (Saturday) [1]
25 July (Sunday)
While looking for Katherine Brewster at the Emery Animal Hospital, the T-X killed Betsy Steinberg.
Still searching for Katherine Bewster, the T-X determined that her primary target, John Connor was somewhere nearby.
The Emery Animal Hospital was severely damaged when the T-850 rescues Katherine Brewster from the T-X.
The T-850's primary Hydrogen fuel cell was damaged during a battle with the T-X. It later discard the damaged cell, which caused an extreme explosion.
The T-X murdered Scott Mason and impersonated him upon answering the door for Detective Edwards and Detective Bell from

LAPD

.
Upon the ordered of the Admiral

James Morrison

, Chairman of the Joint Chiefs of Staff, General Robert Brewster gave complete control of the United States military to Skynet, unaware that it had become self-aware.
Acting on the influence of the T-X, the T-1 initiated a massacre, killing anyone in

Edwards Air Force Base

that present a threat to Skynet.
Robert Brewster died after being shot several times by the T-X, but not before giving John Connor and his daughter, Katherine Brewster a folder of codes and instructions to proceed to Crystal Peak.
After an intense bout hand to hand combat, the T-X corrupted the T-850's system via Nanotechnological Transjector, but the T-850 was able to later shut down.
The T-850, having restarted, arrived Crystal Peak and destroy the T-X, saving John Connor and Katherine Brewster's life.
At 6:18 PM,[3] Skynet initiated the first launch sequences, causing Judgment Day.
Salvation timeline

[

]
In Salvation timeline, Judgment Day happened on July 25,[4] 2004.[5]
Terminator: The Sarah Connor Chronicles

[

]
In The Sarah Connor Chronicles timeline, on May 30, Charley Dixon was honored with a plaque along with other EMTs for their heroic efforts in Van Nuys, California getting his name in the Los Angeles Sun. "Gnothi Seauton"
Genisys timeline

[

]
In Genisys timeline, Kyle Reese was born in 2004 to Dennis Reese and Mary Shea.[6]
Notes
[
]
References
[
]