Jurassic World: Dominion Dominates Fandom Wikis - The Loop
Play Sound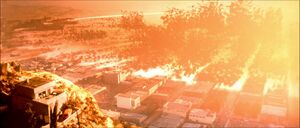 In the Original timeline, Judgment Day happened in 29 August 1997.
Original timeline
[
]
Human decisions were removed from strategic defense.
Skynet began to learn at a

geometric rate

.
Skynet became self-aware at 2:14 AM Eastern Time.
The shut-down of Skynet failed. It launched nuclear missiles against targets in Russia.
The Russians struck back, which began a global nuclear war. Three billion humans died.
Skynet's World
[
]
Main article: Dark Futures
Alternate Future of Judgment Day timeline

[

]
Due to the destruction of Cyberdyne Building in 1995, Judgment Day never happened. August 29, 1997 was just a normal day. Sarah Connor was going to go on the street and celebrate, but she got drunk instead.[4]
Rise of the Machines timeline

[

]
Genisys timeline

[

]
Judgment Day happened on 29 August 1997 as predicted. However, due to the Attempted Assassination of Young Sarah Connor, the timeline was changed as the T-800 that arrived in 1984 was completely destroyed, without leaving any wreckage, by Pops. Hence, Cyberdyne Systems was never able to retrieve the T-800 Terminator's CPU chip and its wreckage to create Neural Net CPU via reverse engineering. As a result, 1997 was a normal year and Skynet did not come online until 2017, twenty years later, as Genisys. Terminator Genisys
Notes
[
]
References
[
]