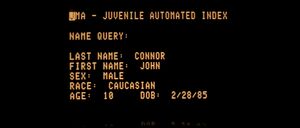 John Connor was born on 28 February 1985[1] to Sarah Connor. Kate Brewster was born in the same year to Robert Brewster and his wife.[2]
Ben, Sarah, and Kyle were tracked down by the Terminator in Borrado, Mexico.
After mortally wounded, Kyle was managed to destroyed the Terminator.
John Connor was born shortly before Kyle died. Ben and Sarah buried him at sunset and left the place with John next morning.
Ben lived with Sarah and John. However, he left from time to time to travel around.
Sarah and Ben blew up a building owned by Raven Technologies.
Mr. Cort's team picked up a radiation signature of the Terminator in Mexico and Mr. Cort ordered a recovery team to bring back whatever was there.
The Terminator: Enemy of my Enemy

[

edit

|

edit source

]
Farrow Greene, an ex-CIA operative, was hired to track down Elise Fong, a scientist who developed artificial skin, a predecessor of the living tissue. However, Fong, now under alias "Elizabeth Wu", was also targeted by a Terminator.
Greene failed to acquire Fong due to the Terminator intervened. She told the incident to Ben, one of her contacts, who then inform her encounter with a Terminator to the Mr. King from the Rothlake, a private mercenary force. The Terminator: Enemy of my Enemy issue 1
Greene managed to capture Fong in New York and interrogated her in the abandoned Cameron High School. They were reacquired by the Terminator before the three were intercepted by Ben and mercenaries from Rothlake. Fong was taken away by the Rothlake, while Greene fled the scene. The Terminator: Enemy of my Enemy issue 2
Fong was interrogated by Ben in Rothlake headquarters for her project on living tissue. The Rothlake decided use her as a bait to capture the Terminator.
Greene was reacquired by the Terminator. Following a car chase and an ensuing fight, Greene persuaded the Terminator to work with her since they both had a common target and it agreed to colaborate. The Terminator: Enemy of my Enemy issue 3
Greene and the Terminator broke into Rothlake's base, but they were captured by a prototype Terminator. The Terminator: Enemy of my Enemy issue 4
Greene was able to rescue Fong and left the Terminator behind. The Terminator than killed Mr. King before going to reacquired Fong. The Terminator: Enemy of my Enemy issue 5
Fong was killed by the Terminator after it rammed the machine with a car, while the Terminator was later destroyed by Greene. Its wreckage was retrieved by Greene. The Terminator: Enemy of my Enemy issue 6
Community content is available under
CC-BY-SA
unless otherwise noted.