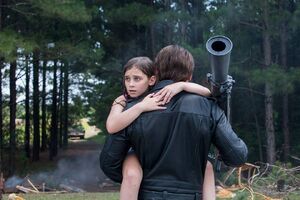 Margos Sarkissian was born 22 January 1973 in Yerevan, Armenia.[1]
In Genisys timeline, a T-1000 arrived 1973 from an unknown point in the future with a mission to kill a 9-year-old Sarah Connor.
When Sarah Connor's family was camping at the Big Bear Lake, Sarah Connor's mother was killed by a T-1000, who went on killing Sarah Connor's father. Sarah was saved by a T-800, who arrived from an unknown point in the future, and she was taken away and raised by the T-800, who she called "Pops".[2]
↑ The image of Sarkissian's passport at the end of the episode "What He Beheld" shows that his date of birth and birth place.
Community content is available under
CC-BY-SA
unless otherwise noted.